DISCOGRAPHY
Featured recordings with other artists
Steve Hackett : Spectral Mornings, Defector, Cured, Highly Strung, Till We Have Faces, Bay of Kings, Time Lapse Live, Genesis Revisited, Guitar Noir (remastered version), The Unofficial Steve Hackett Biography, Feedback 86, Live Archive 708090s, Genesis Revisited II, Premonitions Box Set, Broken Skies Outspread Wings Box Set
The years from 1978 to 1989 spent working with Steve have provided me with some of my happiest and most enduring memories. Spectral Mornings was my first professional appearance on record - our time in the Phonogram studio in Wisseloord, Holland was a truly magical experience, and Spectral still remains my favourite Hackett album. I'm delighted to have taken part in it.
Cured was also notable - primarily in that it was the first album (to my knowledge) to rely entirely upon the newly-released Linn LM-1 "LinnDrum" for the drumming duties. The Air Conditioned Nightmare from that album boasts a stonking snare sound achieved by sending the Linn snare to a mic'd up Yamaha bin placed at the bottom of a lift shaft - and severely gating the end result. And all before stone rooms were popular....
Highly Strung precipitated my discovery of the Roland Jupiter 8 - initially hired for a day to replace one of my ailing synths. I promptly bought one and used it almost exclusively for keyboard duties throughout the album.
Till We Have Faces was the result of an extraordinary month spent writing and recording in Brazil. After a week of routining in Petropolis, Steve & I decamped to Somlivre Studio in Rio de Janeiro to record over the following three weeks. Working with the various Brazilian percussionists and musicians proved highly rewarding, memorable and educational.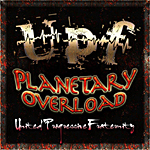 United Progressive Fraternity (UPF) : Planetary Overload; Part 1 - Loss
I'm very proud to have contributed to three tracks on this, the first album of a two-part project highlighting the impact of climate change and the critical environmental isuues facing us all. A truly international endeavour, the album features guest prog musicians from around the world, with endorsements from many leading environmentalists including Sir David Attenborough.

Pete Hicks and Nick Magnus : Flat Pack

Pete Hicks and I had often talked about making an album together - Flat Pack is the result; an eclectic collection of original songs flavoured with elements of rock, pop, folk, prog and jazz. You can't say we don't do variety! Flat Pack was released in January 2009 on Beach Hut Records.


Duncan Browne : Songs Of Love And War
Released in 1994 on the Zomart label a year after the untimely death of the artiste, Songs Of Love And War is a collection of classic Duncan Browne songs and instrumentals. Amongst the collection are new pieces we had been working on with a view to producing a new album for Duncan, together with some wonderful instrumentals extrapolated from his output as a TV and film composer. His 1973 hit single Journey has been recreated in a more 'modern' guise, as well as a remastered version of Wild Places and a number of posthumously enhanced recordings that otherwise might never have been heard. This album is a tribute to a sadly missed, multi talented musician and a great friend.

China Crisis : Flaunt The Imperfection
Although initially terrified (!) at the prospect of working with Walter Becker (of Steely Dan) at the production helm, Flaunt the Imperfection turned out to be a hugely enjoyable album to work on. A collection of infectious, memorable songs that was to become China Crisis' most successful album.

Renaissance : Timeline
Timeline saw Renaissance adopting a slightly more 'commercial' approach than previous albums. The band was a joy to work with, and John Acock (co-producer of many Steve Hackett albums) engineered as adeptly as ever. The lovely Annie Haslam now lives in the US, and is still singing and recording.

This CD Mini-Album represents the only recordings made by this highly progressive instrumental band (see Biography). Recorded in 1977 & 1978 they have been lovingly restored by the band themselves to their original form. There have been no additional overdubs since they were made. 42 years on, it is now available on vinyl, just as it should always have been.

Human Animal (1988) followed Karel's hugely successful 1987 hit single Hey Matthew (also featured on the album). Remarkably, the album itself never took off - despite amply demonstrating Karel Fialka's taste for the bizarre and unconventional while still remaining commercially appealing. I was certainly kept on my lateral thinking toes for the duration! www.karelfialka.com

Claire Hamill : Love in the Afternoon
Recorded in Claire's own studio situated in her wonderful old Jacobean house, this album conjures up soothing images of lazy, hazy summer afternoons. Once again, John Acock performed wonders at the mixing console.

Various : Rime of the Ancient Sampler - The Mellotron Album
An eclectic collection of recordings to honour the legendary tape-based sample replay keyboard, the Mellotron. Features diverse contributions from the likes of Patrick Moraz, Bill Nelson, Blue Weaver and Mike Pinder. As well as my own contribution, I sat in the producer's chair for the compositions by Martin Smith (of Streetly Electronics, home of the instrument) and Gordon Reid (of CEDAR Audio).

Martin Kennedy : Martin Kennedy
Despite success as a songwriter in Hong Kong, Germany and Israel, Martin Kennedy has yet to be recognised on his own turf - a situation familiar to quite a number of writers and musicians. This 1991 album is Martin singing a selection of his own songs, with yours truly at the keyboards and wearing the producer's cap.

Shirlie Roden : The Path Of Daring
Singer/songwriter Shirlie is best known for her work with The Kinks, guitarist Gordon Giltrap and Christian rocker Adrian Snell. I had a lot of fun creating the arrangements for these songs.

James Warren (The Korgis / Stackridge) : Burning Questions
Remember Stackridge? A true cult band of the 70's.... latterly the mastermind behind The Korgis, James Warren is one of the masters of the hooky pop song, and this album is definitely not short of these! Recorded way back in 1986, this album comes with numerous memories attached - drinking absurd amounts of tea, endless fights with the Korg SQD1 sequencer and a recalcitrant Emulator II, not to mention the Asteroids machine at Sonet Studio on 'free vend'. Ah, those were the days..........