December 28, 2013
Another year, another Xmas... and the first bit of seasonal good news is that all the writing and recording for the new 'N'monix' album is finished. Yee-haaa!! Over the next few days I'll be dotting the i's and crossing the t's before putting it safely in the can (plus several backups...!) The second bit of good news is that it's being released on Cherry Red's progressive rock label, Esoteric. This change from releasing it myself means that distribution of the album will be wider, so it should be available from more outlets than previous albums. However, it also means that I won't be selling it directly from my website shop (at least not initially) but there will be links to places I know to be stocking it.
Release date is currently projected to be April 2014. As soon as I have something more concrete I'll post it here and anywhere else I can think of.
Wishing everyone a Happy New Year, and a 2014 devoid of all shabbiness!
Here's the list of the album tracks and guest musicians...
TIME
Tony Patterson - Vocals
MEMORY
Kate Faber - Soprano Voice
KOMBAT KID
Tony Patterson - Vocals
Nick - Richard of York, aged 6
HEADCASE
Nick - Vocals
EMINENT VICTORIANS
Pete Hicks - Lead Vocal
Steve Hackett - Electric Guitar
Andy Neve - Backing Vocals
BROKEN
Tim Bowness - Vocals
Steve Hackett - Guitar Arpeggios
Rob Townsend - Soprano Sax, Flute
SHADOWLAND
Steve Hackett - Electric Guitar
ENTROPY
James Reeves - Lead Vocal
Andy Neve - Backing Vocals
September 2013
Dick Foster not only writes wonderful lyrics for the albums, but is also the creative mastermind behind the promotional videos. For the video we're currently working on, Dick has put in the most incredible amount of hard work and ingenuity. I've been watching it come together bit by bit, and I can't wait to see the final shots in place, which were filmed last Monday. This involved a stage set themed on the Industrial Revolution, and a special guest star - Steve came along to do the honours in front of the camera for his stunning guitar solo. The video will go online prior to the album's release date. So no time to lose, then - I'd better get on with it! Meanwhile, here's a shot of the boys taking a break between shifts in the boiler room...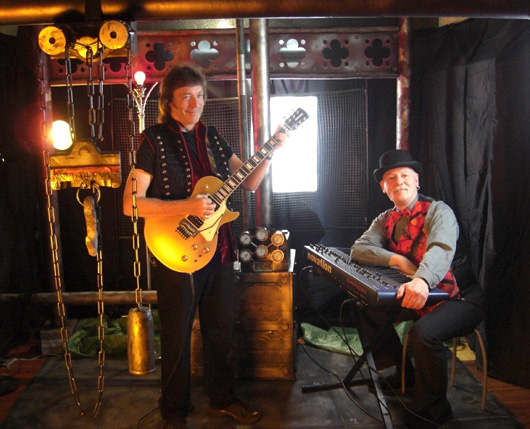 August 2013
There's been a fair amount of progress with the new album over the last couple of months, with six tracks more or less complete and just a couple more to write. I've been lucky enough to have had some stellar guest contributions to the album.
Steve Hackett plays on three tracks, which include two dazzling guitar solos; Pete Hicks provided one of his characterful lead vocals; Rob Townsend laid down some amazingly acrobatic soprano sax; Andy Neve provided his trademark airy backing vocals, and soprano vocalist Kate Faber reached unerringly into the stratosphere.
Most recently, No-Man's Tim Bowness contributed an incredibly heartfelt and moving lead vocal - I recommend keeping the Kleenex close to hand! Mr Tony Patterson is due to trek down from Newcastle to add his vocal talents very soon - a couple of fun days that I'm looking forward to!
If my descriptions seem a bit 'lovey' it's just that I can't stress enough how fortunate I am to have access to such talented musicians. I feel the need to borrow Richard Attenborough's stirrup pump...
Well, at last the temperature is cooling down a bit, so hopefully I'll be able to spend a bit more time in the studio without melting into a sweaty blob - not conducive to creativity! No, I don't have air conditioning!
And plans are afoot for a video of at least one of the tracks...
March 26th 2013
Back in August last year, I was invited by Canadian uberdrum-meister Eddie Zeeman to guest on a 'progified' version of The Who's 'Baba O'Riley'. I'm delighted to say the track features on Eddie's 'Guilty Pleasures' EP, now available from CD Baby... http://www.cdbaby.com/cd/eddiezeeman

You can grab an earful of 'Baba' here:
http://www.reverbnation.com/main/search?q=eddie+zeeman
February 28th 2013
More fab guitar work from Steve today... The G major 7th with flattened 3rd provides a moment of sheer ecstacy for the boys...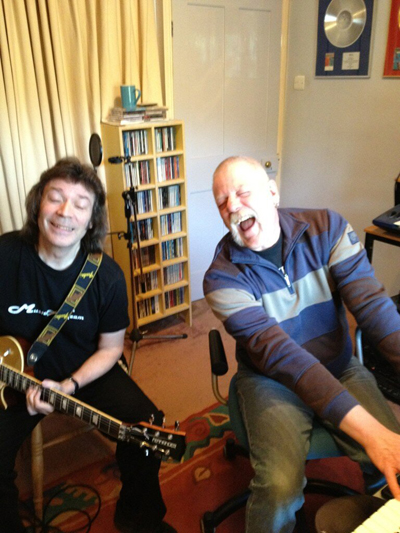 Photo by: Jo Hackett

February 2013
It's been quite an eventful month so far... on Thursday 7th, I was privileged to have Steve Hackett provide a highly evocative performance on a rather unusual track. Steve's guitar features prominently, with only a choir for accompaniment - not an obvious combination perhaps, but one that fans of Mr. H will hopefully enjoy very much! I'm delighted that Steve will be returning later this month to add his talents to two more tracks for the album.
There was a new musical discovery (for me, anyway)... The Bach Choir was at the Royal Festival Hall performing Poulenc's 'Gloria' - a work I'd not heard before. I was bowled over by it - it's both joyful and sublime, with elements you could almost describe as Prog - it's definitely one to track down for the CD collection.
Also, a surprise birthday lunch... in Paris! Strangely, the day included a trip down the Paris sewers - perhaps 'Les Mis' had a profound effect. Didn't see Jean Valjean, though - but they did have some stuffed rats. We rounded up with an excellent Dali exhibition at the Pompidou Centre, a huge and diverse collection of works ranging from psuedo Pre-Raphaelite styles to video art - far more than the usual disembodied limbs draped over forked sticks.
January 2013
People have been asking if there's a new album in the works - and I'm pleased to say the answer is yes! Dick Foster is providing the lyrics as always, and he's already begun work on one of the album's promo videos. This time the album deals with a subject that many of us may well relate to on a personal level. Progress has begun to pick up apace this month, despite unwelcome distractions (a humungous leak in the bathroom that meant replacing the entire floor and half of a stud wall...) but hey, the show must go on! On Wednesday 16th, über-maestro Rob Townsend rolled up to record some sensational soprano sax - and boy, can that man play. Having seen Rob perform numerous times with the Hackett live band, it was a no-brainer to ask him to sprinkle his magic on a track for this album, and I couldn't be more thrilled by his contribution.
January was also movie month - it was a pleasure to see Maggie Smith doing some proper acting in 'Quartet' as opposed to the gurning she does in Downton Abbey... (although we love that too) and Russell Crowe is really a much better singer than the reviews of 'Les Miserables' would have us believe. Poor Russell!
VIDEO BLOGS

click here to visit my YouTube channel!
Recording with Pete Hicks

Recording with Linda John-Pierre