November saw John Hackett and I leave the warmth and comfort of our recording studios to perform three live shows supporting one of Italy's finest prog bands, The Watch. We had a great time playing in Norwich, London and Leicester, rediscovering the joys of life on the road. What can match the glamour of arriving at a sumptuous Travelodge at 1.30 in the morning without any change for the vending machine?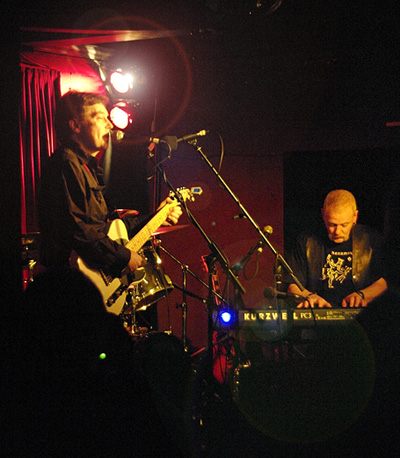 John and Nick at The Luminaire, London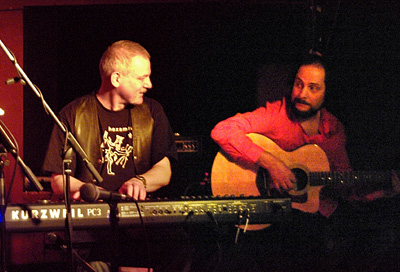 Joined by Giorgio Gabriel
For the final track in our set, a medley of Steve Hackett classics 'Jacuzzi' and 'Overnight Sleeper', we were joined by The Watch's very own Giorgio Gabriel. If you've never seen The Watch, you should! They are an excellent band of highly accomplished musicians who play not only their own material, but also specialise in exquisitely rendered recreations of early Genesis. On top of that they're a great bunch of people - terrific company and so easy to get on with.
At the Luminaire gig, we had the additional treat. How many bands do you know with their own artist in residence? Meet Charlotte Fawley...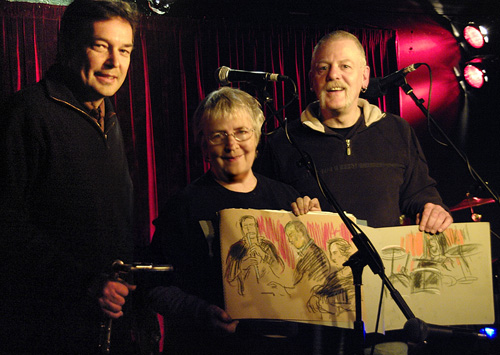 Can you tell what it is yet?
Theatre artist Charlotte is more accustomed to drawing and painting the Bolshoi Ballet at the Royal Opera House. This was her first time roughing it at a rock gig. Fortunately for us, tights and tutus were not required! Despite the decibels and drawing in the dark, she seemed to enjoy herself, turning out some marvellous sketches.