Over the course of a sunny May weekend, Genesis France held their Steve Hackett Event at Werenzhouse, in the beautiful Alsace region of France. The featured artist for the weekend was of course Steve, who provided not one, but two first-class concerts - the acoustic trio on the Saturday, and the full electric band on the Sunday. John Hackett and I were naturally delighted to be invited to perform our acoustic set on the Sunday - and so it was that John, Katrin and Dick all crashed out at my place for a couple of hours' kip before getting up at 4.30AM to barrell round the M25 to Gatwick on the Friday morning. We'd decided it was best to travel a day early, since cancelled and delayed flights seem to be a little too frequent these days!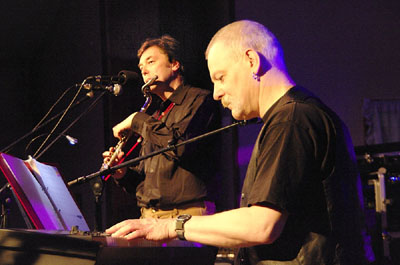 I know Middle C is here somewhere...
By the Friday afternoon we were settled into the Morimont hotel. The Morimont is the centrepiece of what had once been an isolated village in the middle of nowhere, built specifically to serve the neighbouring castle. When the castle became derelict in the 1800s, the village became a farm, and the erstwhile village town hall is now the hotel, only recently converted and refurbished. A very pleasant evening was spent dining and chatting there in the company of Maurizio and Angela, who had come from Switzerland to see the show, and who were also staying at our hotel. After exploring the ruined castle the following morning (climbing crumbling parapets and braving the dungeon) we were taken to the gig venue, arriving just as The Watch were finishing their sound check. The party was already in full swing - the audience was outside in the picnic area lapping up the sunshine whilst the crew busied themselves indoors for the first performance from The Watch, who had volunteered at short notice to fill in with a 'surprise' set before their main show. Once our Italian friends had set the ball rolling, a short break for supper - chilli con carne (or a veggie option!) with baguettes and beer to fortify bands and fans alike. The atmosphere was warm and convivial, offering plenty of opportunity to meet members of the audience for a good chat.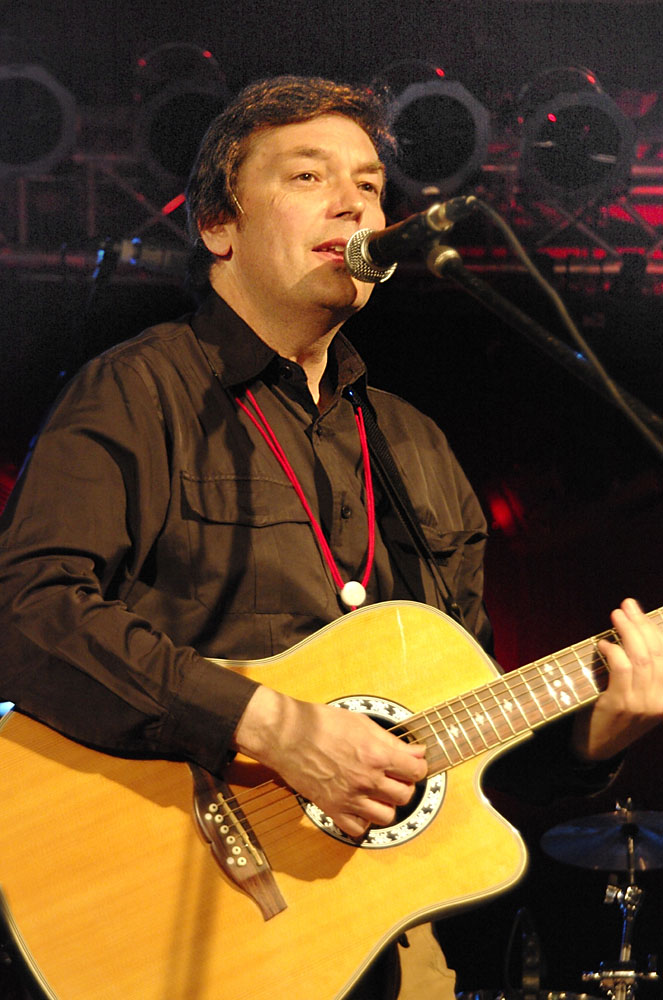 John flexes his vocal chords
Then the Steve Hackett Acoustic Trio - Steve, John and Roger King - stepped onto the stage. This was the first of three performances for a very hard-working John Hackett! It was an excellent show, greeted with a well-deserved standing ovation from the crowd. Then another pause to reconfigure the stage in preparation for The Watch's main set, playing their 'Blue' show. No time to rest for John, though - he joined them onstage as a special guest for the first three numbers! We were treated to splendidly authentic versions of classic Genesis tracks, with the entirety of 'Foxtrot' as the main attraction, including a blistering drum duet featuring The Watch's Marco Fabbri and guest drummer extraordinaire Phildas Bhakta. With the sun well below the yard-arm, everyone retired to their respective lodgings to wind down with a few glasses of Alsace wine and a good night's sleep in preparation for day two.

Nick confounds the audience with his fluent Franglais
Sunday kicked off with an onstage interview with Steve, followed by a meet & greet, photo sessions and signings outside in the warm sunshine. Whilst everyone was outside, John and I began doing the sound check for our performance. Eventually we were ready to let the audience in and hit the stage! I must say I was a bit nervous about attempting to do my announcements in French - John had done his 'French prep' but I felt like a schoolboy who hadn't revised for a test! But I think I got away with it...
We played an hour-long set comprising tunes from John's 'Checking Out Of London' and 'Prelude To Summer' albums, my 'Hexameron' and 'Children Of Another God' albums, as well as some well-loved favourites from Steve's repertoire. It all went down very well - and we even got an encore, despite the dodgy French announcements...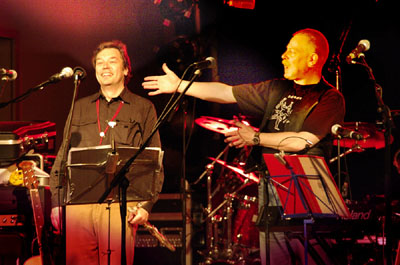 I think we got away with it!
Time to relax then - our work here was done! Another break for the audience as the crew made ready for the main attraction - the Steve Hackett electric band. Back in the dressing room, the various members were limbering up - Gary O'Toole practised his paradiddles on a drum pad, Nick Beggs was hammering away on his Chapman Stick, and everyone was nibbling at the morsels of delicious chocolate cake that appeared at regular intervals. Then the blinds were drawn, the lights went down, the stage filled with a heavy haze from the smoke machine - it was showtime! The band kicked off with a stonking version of 'Mechanical Bride', heralding an evening of intense prog rock in inimitable Hackett style. This was rock'n'roll - and the audience knew it! This band line-up is the business - Steve is playing now with such energy and conviction, and singing with real confidence. Roger is a tower of strength on keyboards, Beggsy is a phenomental bass player, as well as being a powerful visual presence on stage. Amanda oozes sheer glamour and sings like an angel. Rob brings such sweeping, legato lyricism to his sax playing, whilst Gary totally nails everything firmly to the floor. The crowd was treated to Genesis classics as well as Hackett material both old and new, all of which earned the band an enthusiastic standing ovation.
Next up was a surprise addition to the programme - an acoustic set by Franck Carducci and Nicolas Leroy. Armed with only a pair of 12-string guitars and two sets of vocal chords, Franck and Nico produced a very warm and full sound, and kept the audience thoroughly entertained.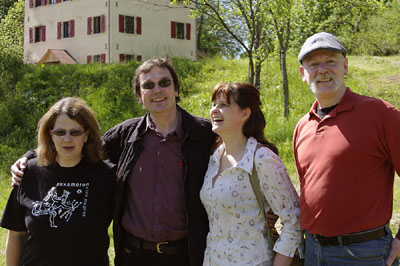 Chilling out at Hotel Morimont: left to right:
Steph Kennedy, John Hackett, Katrin Hackett, Nick
The final act of the weekend was Gens de la Lune, who kept the groove going with their own brand of energetic, gothic-flavoured prog rock, making a fitting conclusion to an excellent weekend. Congratulations to Paul and Carole for organising such a memorable and successful event, and thanks to everyone involved for making it run so smoothly, for looking after us all, and for making us feel so welcome. Finally, a huge thank you to all the fans for coming to the event and supporting us so unreservedly. Without you we would not be doing what we do!